Vigyanjyoti Curriculum Based STEM Program 2022
3.5 Elaborate : Research
Sugar in rice
Take a bowl of unsalted cooked white rice and eat it. Do you feel any sweeter taste in your mouth or nothing else? Observe the results carefully.
Rice does not have sugar in it, but it does have starch – a lot of starch. Sugars and starch are both types of carbohydrates. Starch is a complex carbohydrate made up of many pieces of a type of sugar called glucose.
While most of the calories in white and brown rice come from carbohydrates, white rice has a higher glycemic index than brown rice. This means that a serving of white rice provides a quicker blood sugar spike, which has almost the same effect as eating pure table sugar.
To test the carbohydrate in your bowl of rice.. add few drops of iodine to the rice. It will turn blue-black in color. When iodine comes in contact with starch, it forms a starch Iodide complex because iodine gets stuck in the beta coils in the structure of amylose of starch. The starch iodide complex gives a blue-black color.
Yeast and sugar
Yeast can use sugar as food. Several chemical changes are occurring inside the bottle. The yeast causes the sugar to turn into alcohol, carbon dioxide, and energy. Too much sugar can inhibit or even kill the yeast by making the yeast produce too much alcohol. Yeast can tolerate just a certain amount of alcohol.
Procedure
Put two spoons of sugar in a glass.
Add half of a spoon of yeast to it.
Add warm water and dissolve it.
Observe the results.
Other Procedure
Take three plastic bottles and add 2, 3, 4 spoons of sugar respectively.
Add warm water to each of them and mix it gently.
Add half a spoon of yeast to each bottle.
Put a balloon at the top of the bottle and observe the results.
Note: This process will take time so check the results every 15 min. 
Wake up Yeast. Make my bread….
The earliest loaf of bread was baked in Egypt about 6,000 years ago. They noticed that a neglected mixture of water and flour sprung to life, bubbling away in a corner. The bread needs a "livener" to help all the ingredients. It can be baking soda, baking powder, or yeast.
BE A BABY BAKER !!
Procedure
Take a glass and take half a spoon of yeast and 4 tsp of sugar.
Mix it by adding 10 ml of warm water.
Stir the mixture with a spoon and allow it to stand at room condition for 15 min.
Add 100 g of wheat flour with the help of a measuring cup.
Add 1 tsp of cooking oil to the flour.
Add a prepared mixture of yeast solution.
Make the dough in a ball shape by adding water. Knead it properly till it starts stretching.
Apply a little oil to the surface and cover it with a plastic cover and allow it to stand at room condition (warm place) for 30-60 mins.
After 30-60 mins or 1 day (For better results), see whether the dough has increased/doubled in its size.
Take a cooker and add rock salt at the base then put a plate.
Preheat the cooker for 10 min.
Place the microwavable vessel with oil applied all over the vessel inside.
Keep the dough.
Close the cooker and let it cook for 20-30 min.
Please remove the whistle of the cooker.
Conclusion
After baking the bread, you can notice that bread baked with sugar would have risen, has a fluffy soft texture, and taste sweet like bakery bread.
As the yeast munch away on the sugar, a process called anaerobic fermentation begins. The by-products of this process are alcohol and carbon dioxide.
During this time, the carbon dioxide is trapped by a series of strands of gluten which causes the bread dough to rise, expand, on the surface, leaving behind a series of air pockets within.
The yeast eventually dies off from the heat when baking, and any remaining alcohol evaporates.
Grow Your Mold at home 
Have you prepared your bread???
Now, let's start experimenting with this. Yes !! You are Scientist.
Take any material whichever you want like soap, vinegar, lemon, salt, toothpaste, or oil. Put them on different slices of bread providing them little moisture (sprinkle water). Keep them in a moist place.
Observe the results that happen when you put the different types of samples on the bread.
Note: Do it under the supervision of adults.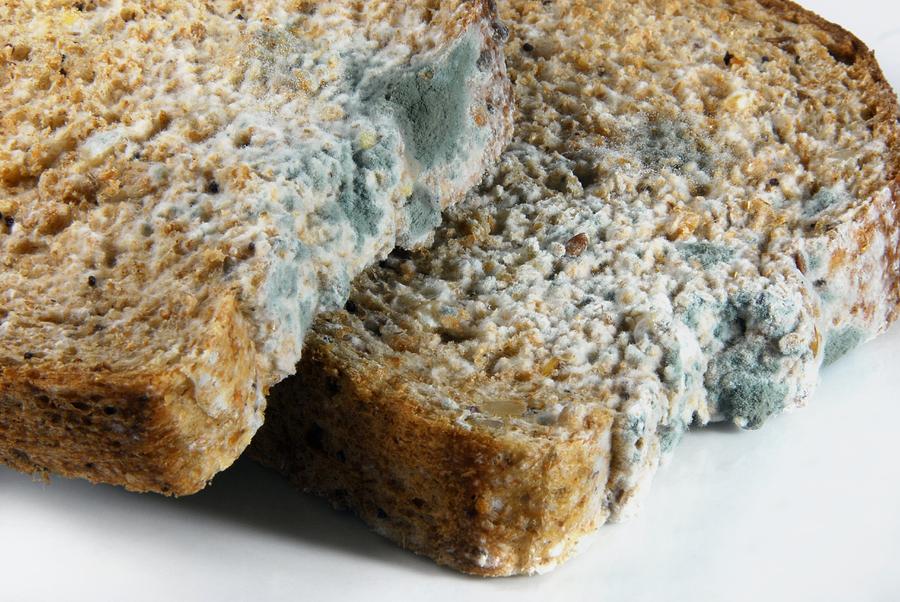 Fill the table according to mold growth.
 
Growth Observed
Samples
Day 1
Day2
Day3
Day4
Day5
Day6
Day7
Toothpaste
 
 
 
 
 
 
 
Vinegar
 
 
 
 
 
 
 
Oil
 
 
 
 
 
 
 
Soap
 
 
 
 
 
 
 
Salt